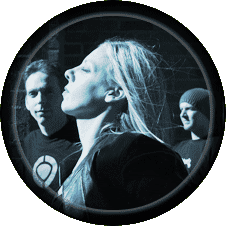 ANEMO began life in September 2002 when Kingsley Sage was auditioning singers for a song writing and recording project. The results had been universally disappointing (to put it mildly), until at the 11th hour a former actress and talented vocalist called Hazelle Woodhurst entered the picture. The two immediately got on well, with their shared love of different types of music and, of course, a good English cup of tea. The two set to work on penning a number of songs that would later become the basis of the ANEMO's first album. They decided that the project needed a rock edge, and to that end guitarist Matt Palmer was added to the mix.
After countless evenings at the band's basement studio in Brighton, the three had amassed an impressive collection of pop-meets-rock-meets-electronica tracks. At this point, the group took on the name ANEMO, a word that means "changing forms", to reflect the blend of styles and influences that was brought to the music. The strong vocal melodies and distinctive style caught the attention of Trebor Lloyd, CEO of New York-based upcoming independent record label City Canyons. In summer 2005 ANEMO signed a 3 album record contract with CC and began to record the final tracks for their first album.
The trio's debut album Slowburn was met with critical acclaim on both sides of the Atlantic - gaining rave reviews and returning top 10 positions on U.S. college radio. In the U.K. the band were championed by BBC 6 music as "one to watch" on the Bruce Dickinson (of Iron Maiden fame) Rock Show and Slowburn was named "one of the albums of the year" by shakenstir.co.uk. The ANEMO live band has toured throughout the U.K. and was recognised for its energetic live performances by winning the CRS "Best Live Band" award in 2006.
The band's new album - Stentorian - was released on 13th October and is more focused towards the aggression and energy of the live band than it's predecessor. You can check out the videos for Pray (a song written in homage to BBC war journalist John Simpson) and the latest single, MusicBox, on the video page.